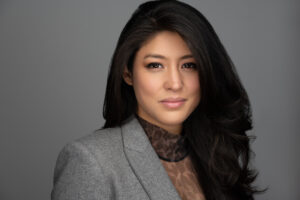 Email:
nadia@greenmtlaw.com
Vermont Judiciary Law Office Study candidate. Regulatory, legislative, political strategy, energy, environmental; Federal, state, local.
Legal Clerk at Woolmington, Campbell, Bent & Stasny, P.C.
Education: Georgetown University (B.A.); Yale University School of Management (Executive Certification in Negotiation Strategies)
Professional and service positions: Nadia's career has focused on the design of complex rules and regulations to help bring new technologies to market. Prior to joining the firm in 2020, Nadia served as Head of U.S. Government Relations for Cruise, a leading self-driving car company with multi-billion-dollar investments from General Motors, Honda and SoftBank. Here, Nadia helped craft new laws and regulations for self-driving cars in over 14 U.S. states and capitals, while also serving as the Co-Chair of the Autonomous Vehicle Subcommittee for the Bay Area Council and on the Policy Advisory Committee for sf.citi. Nadia also served as Founder & President of Latinx at Cruise, one of the company's first official cultural diversity initiatives.
Prior to Cruise, Nadia drove public policy and regulatory design for Advanced Microgrid Solutions, an advanced energy storage company based in San Francisco, CA. Nadia also worked in Washington, DC, where she supported Federal Governmental Affairs for NextEra Energy / Florida Power & Light, the nation's largest wind and solar company (second largest in the world) and the third largest electric utility with over 4.6 MM customer accounts. Here, she oversaw political engagement with the U.S. Congress and Executive Branch on issues relating to renewable energy, public utilities and tax reform. Nadia's professional background also includes roles at the U.S. Department of State and the Human Rights Watch. Nadia graduated from Georgetown University in Washington, DC with degrees in English and philosophy, and from Yale University's School of Management with an executive education certificate in negotiations strategies.
Personal interests: Cooking; calligraphy; painting; travel.