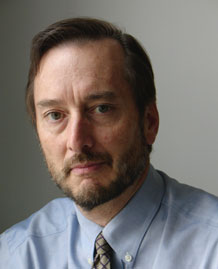 Email:
rob@greenmtlaw.com
Rob has retired from active practice as a trial and appellate attorney.
Education: Colgate University (B.A., magna cum laude); Harvard Law School (J.D., cum laude). Phi Beta Kappa.
Representative court cases: After a six-day trial alongside co-counsel Merrill Bent, the Vermont Superior Court granted Rob's clients' an injunction against a large neighboring farm, prohibiting the farm from discharging water or particles from flowing from the discharge points of the farm's tile-drain system through their land and into Lake Champlain, and an injunction prohibiting the farm from permitting gases with noxious odor to travel from its manure pits downgradient and settle on their land for more than an hour. Press report here.
The Vermont Supreme Court reversed the Superior Court Environmental Division and ruled that the regional plan adopted by Two Rivers-Ottauquechee Regional Commission, Rob's client, must be enforced in a land-use proceeding.  The high court held that a large proposed mall must be denied a land-use permit because the development would not comply with the regional plan. Rob's brief here.  Supreme Court decision here.  Press report here.  This was only the second time in 20 years that the Supreme Court has upheld denial of a development for failure to comply with a regional plan. Rob also represented the prevailing regional commission in the first case.
The federal court in the District of Vermont granted Rob's motion to dismiss a lawsuit alleging violations of the requirements of the Federal Power Act and the Public Utilities Regulatory Policy Act.  Rob represented the company appointed by the Public Utility Commission (PUC) to facilitate energy sales by qualified, small-scale producers. Federal court's decision here.
The Vermont Supreme Court reversed the Superior Court Civil Division and ruled that a timber harvest in the Northeast Kingdom, by Vermont's largest landowner, failed to comply with requirements of the applicable forest management plan.  Rob filed an amicus brief for Vermont Land Trust in support of the position adopted by the Supreme Court. Rob's brief here. Supreme Court decision here. Press report here.
The Vermont Supreme Court upheld a trial judgment in favor of Rob's client in a complex property law case. The Court rejected the claims of neighbors who sought to block creation of a public recreation path on a former railroad right of way. Rob's brief here. Supreme Court decision here.
A Vermont Superior Court jury awarded a verdict of $1 million to Rob's clients in an appeal of an eminent domain taking by the PUC. The PUC had awarded only $25,000. Press story here.
Other representative work: Organizing new non-profit organizations and advising on the terms of mergers and affiliations; representing property owners in matters related to boundaries, timber trespasses, water rights and real-estate taxes; drafting conservation plans for organizations and private land owners; closing complex transactions; negotiating energy contracts for producers, purchasers and site owners.
Professional and service positions: Trustee, Vermont Journalism Trust, Ltd. (Publisher of VTDigger), 2019-. Chair, Vermont Community Foundation, 2008-2010. Chair, Castanea Foundation, 2006-2008. Chair, Vermont Housing and Conservation Board, 1987-1994. President, The Fund for North Bennington, Inc. 1992-. Early Neutral Evaluator, United States District Court, District of Vermont, 1998-2018. Administrative Law Officer for Vermont Secretary of State, 1997-2001. Associate Member, Vermont Board of Bar Examiners, 1991-1993. Moderator, North Bennington Graded School District, Inc. 1993-2019. Fellow, New England Foundation for the Arts, 1996-1997.
Court admissions: Admitted to practice before all Vermont courts; United States District Court, District of Vermont; United States Court of Appeals for the Second Circuit; United States Supreme Court.
Prior academic positions: Visiting Lecturer in Environmental Studies, Williams College; Instructor in Business Law, Vermont Community College.
Personal interests: Land-conservation projects; bicycling, hiking, gardening and Nordic skiing; photography and web design.
Other Appellate Cases
In re B&M Realty, LLC, 2016 VT 114 (reversing Environmental Court and denying land-use permit to large commercial development because the project would be sited in violation of the requirements of the regional plan).
Old Railroad Bed, LLC v. Marcus, 2014 VT 23 (rejecting property rights claims of neighbors who sought to block conversion of an abandoned railroad right of way into a public recreational trail). Rob's brief is here.
In re HS-122, 2011 VT 138 (reversing Superior Court, rejecting Tax Department's and Attorney General's intepretation of statute, and holding that information about household income held in town offices cannot be disclosed to public). Rob's brief is here (pdf). The law later passed by the Vermont legislature to protect public officials from prosecution for following the erroneous advice of the Tax Department and the Attorney General is here (pdf).
In re Tyler Self-Storage Unit Permits, 2011 VT 66 (reversing Environmental Court's interpretation of zoning ordinance, and prohibiting construction of self-storage units near historic village center). Rob's briefs are here (pdf).
In re Hamm Mine Act 250 Jurisdiction, 2009 VT 88 (affirming regulatory authority over adverse environmental effects of former talc mine after expiration of mining permit). Rob's brief here (pdf).
Eastern Equipment and Services Corp. v. Factory Point National Bank, 236 F.3d 117 (2d Cir. 2001) (affirming U.S. District Court's rejection of tort claims alleged to arise out of violation of bankruptcy stay).
Appeal of Stratton Corp., 157 Vt. 436, 600 A.2d 297 (1991) (affirming upgrade of environmental standards for surface waters in ski area, and rejecting constitutional challenge to regulatory reclassification).
In Re Killington, Ltd., 159 Vt. 206, 616 A.2d 241 (1992) (affirming rejection of ski area's development proposal that would have destroyed critical habitat for black bears).
Sandgate v. Colehamer, 156 Vt. 77, 589 A.2d 1205 (1991) (overruling 1943 Supreme Court decision which had held that land use regulation justified solely on aesthetic considerations was unconstitutional.)
In Re Green Peak Estates, Inc., 154 Vt. 363, 577 A.2d 676 (1986) (affirming ban on residential development above elevation of 2500 feet based on provisions of regional plan).
In re Nehemiah, 168 Vt. 288, 719 A.2d. 34 (1998) (affirming Environmental Board's standards for amending land-use permits, and rejecting proposed development of conservation land).
Paradise Restaurant v. Somerset Enterprises, Inc., 164 Vt. 405, 671 A.2d 1258 (1996) (reversing trial court's construction of a contract).
Leo's Motors, Inc. v. Town of Manchester, 158 Vt. 561, 613 A.2d 196 (1992) (reversing trial court's grant of permit in appeal from zoning board of adjustment).
State v. Davey Oil Co., 146 Vt. 632, 508 A.2d 717 (1986) (reversing Tax Department's interpretation of tax statute).